| | |
| --- | --- |
| Posted on August 19, 2020 at 1:55 PM | |
I read, as I always do, my last blog entry before I write a new one so I'll provide an update on my foot injury first.  It's still a bit painful but there's significant improvement since that last entry.  I did end up going to the doctor and had an x-ray which determined that there were no fractures or breakage.  I do have a tendon/ligament injury however and was advised to attend physio which I'm a little embarrased to confess that I've not followed up on yet. But I have been working with my acrylic paint pens on those keychains I mentioned as I rested the foot.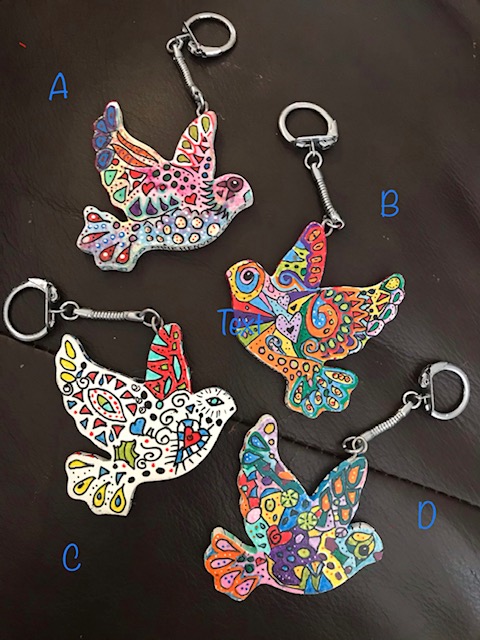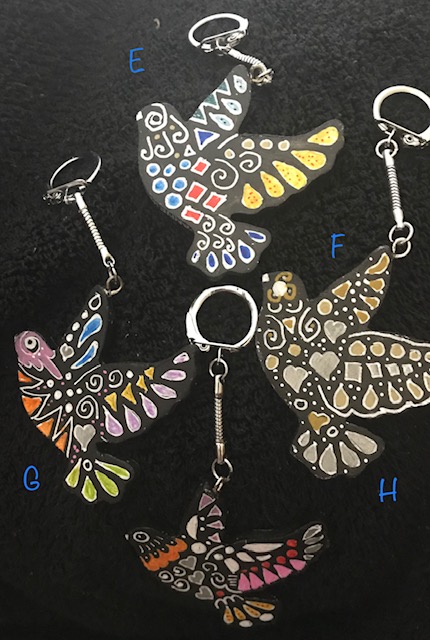 I participated in a couple of online markets, without much success sales-wise but! I'm always open to try new things and get as much online exposure as possible, which I feel was achieved by doing them.  In this Covid-19 environment we have to explore new things every day.  I'm slated to appear in another one on September 14.  Hats off to all those organisers out there who are trying so hard to make up for the lack of physical shows due to Covid-19.  We are all feeling it.  In Collingwood the Blue Mountain Foundation for the Arts (BMFA)  have successfully obtained permission from the town council to close off part of Simcoe Street, which is off the main "drag" of the town, located near where BMFA's gift shop and gallery is.  There's an opportunity there to have a small outdoor show and sale, with just ten participants, all physically distanced according to public health guidlines.  I am thinking of doing this at the end of August.  
I also decided to try a little pop-up sale on my own front lawn in Meaford.  My house fronts onto a fairly well traveled road and I did get a few stops including a delightful visit from a fellow artist and good friend.  I enjoyed chatting with people and sitting in the gorgeous weather.....a "win-win" situation!!  I'm happy to report a couple of small sales and quite a bit of interest in my work.  This keeps me going.
On the Covid-19 front now, I'm pleased to say that my city in the Greater Toronto Area is in Stage Three of the cautious re-opening of our province,  This means gatherings of 100 people outside and 50 people inside.  Restaurants are allowed to open their dining rooms, with strict physical distancing between tables. Gyms are allowed to increase capacity.  Masks are still mandatory in all indoor spaces as well as outdoor markets with foot traffic carefully marked out to avoid crowding and two-way encounters.  There's understandable apprehension as our schools will open on a staggered basis in September, as everyone is thinking about The Second Wave.  Borders between Canada and the United States are to remain closed at least until September 21.  I hope it continues beyond that as many experts are suggesting.  The situation that our southern neighbours are facing is dire.
I have a stack of canvases waiting for me as well as all my wooden Christmas ornament pieces.  I've been lax as far as painting new work goes so I simply have to get cracking!
Blessings to all and above all, stay safe and protect your health. 
Categories: None
/