| | |
| --- | --- |
| Posted on April 3, 2020 at 12:15 AM | |
Usually at this time of year we see a joyful celebration of the Earth's return to new life. 
This year, of course is much different.  Of course I'm referring to the terrifying events that have transformed our planet into a place full of worry and anxiety, of fear and of death.  I was in Florida recently and as my annual holiday came to a close, the reality of CoVid-19 began to make an unwelcome appearance.  Suddenly there was an urgency in people we encountered in shops; staples such as toilet paper, beans, rice, hand sanitizer and disinfecting wipes were completely absent from all store shelves in all of the six states that we travelled through to reach home. Our journey back to Canada became a mission to try and obtain a few items as we simply did not know what we would be returning to, other than the certainty of self isolation. I managed to buy one bag of rice, one bag of dried black beans and a few tins of soup.  We were lucky to still have a little bottle of hand sanitizer that is always in our vehicle.  
As far as painting goes, I've managed to paint a few miniatures, tiny canvasses with magnetic backing which I'm pairing with some of my cards as a set, but not much else. I just cannot muster up any enthusiasm, I hope this passes. I've got a stack of blank canvasses sitting accusingly on a shelf.  At this point I'm uncertain as to whether there will be any summer shows to attend. 
I did however finish and send my contribution to the wildlife charity in England that I mentioned in my last blog.  It has been received and they are hoping that the exhibition will go on in November.  However we are in uncertain times and we will have to wait to see what tranpsires in the coming months. Below is 'Sumatran Baby'.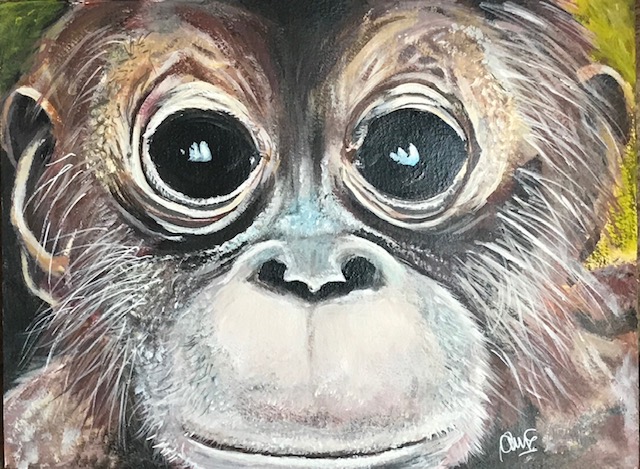 On this note I should add that the Twitter Art Exhibit, taking place this year in Myrtle Beach, South Carolina has been postponed from April 3, indefinitely.  It came as no surprise, and although disappointing, it is the wisest choice to make.
In my province of Ontario, Canada all social gatherings of more than five persons are banned.  I'm sure that this will be amended in the near future to none at all. 
People need to listen and stop thinking that this virus will not happen to them.  Ask the thousands of people who have already either contracted CoVid-19 or have lost a loved one to it. Ask the thousands of health care workers who are witnessing the horror first hand.   
Stay safe, healthy and above all protect yourself and your loved ones.  If you're able....stay at home.  And thank your grocery workers, truck drivers, nurses, doctors and everyone who is helping the country to survive.
Blessings to all.
Categories: None
/