| | |
| --- | --- |
| Posted on February 4, 2020 at 1:05 PM | |
Hello February.
As I've been working from home the winter hasn't been nearly as bad as other years.  Of course I know that it's because I've had no commute anxiety this season.  It's also going by a lot faster than I've experienced in the past for the same reason I'm sure.  To be fair though, this winter has been surprisingly kind, and not the doom and gloom scenario that was being predicted by the weather experts earlier in the season.  There's been a lot of strange weather related events globally as well.  Fires in Australia of epic proportions, earthquakes and flooding in various other parts of the world.  Mother Nature is angry.
Last month I completed my Twitter Art Exhibit contribution, in support of the Horry County Disabilities and Special Needs organisation.  Being that it's taking place in Myrtle Beach, South Carolina, which incidentally is an old stomping ground of mine, I decided on green tomatoes as my subject.  It's a southern dish, and I thought it appropriate for the area. I've posted some photos of 'Green Tomatoes' below: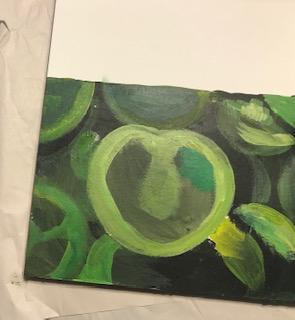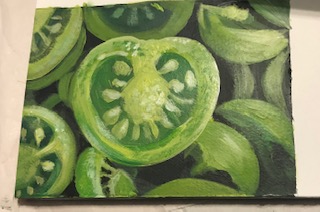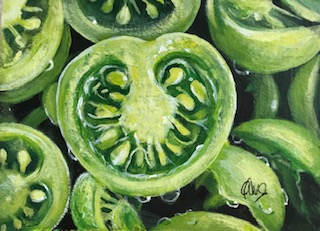 It took over two weeks to arrive at the gallery in Myrtle Beach but I'm happy to say it's there and has been posted to Twitter by the curator of this year's event. I'm hoping that it will sell quickly in support of Horry County Disabilities and Special Needs.  For the past two years I've been thrilled that my little postcard has sold on opening night.  Could I be lucky enough to score a hat trick?  Here's hoping.  This year marks the tenth anniversary of Twitter Art Exhibit.  Much money has been raised benefitting various charities during these ten years.  I've been part of it for five, I really wish I'd known about it sooner, but assuredly I will continue to support this fantastic organisation. 
My next project is a bigger piece and will be sent to England, ironically to the city that is close to where we last lived.  This event is in support of endangered animals and habitats.  I'll be writing more about that in my next blog.
Blessings to you all.  Stay warm.
Categories: None
/